STEP 1: WATCH THE VIDEO BELOW ...
Join Vollmer Coaching and Apply to be part of the TEAM to receive expert guidance towards achieving Financial Freedom through Real Estate Investing
See what our Students say about our MasterClass

They helped us get our first SubTo Deal, and converted it into a cash flowing STR
I cannot express enough gratitude to Vollmer Coaching for the invaluable knowledge and support they provided me. Through their guidance, I was fortunate to find a distressed property in St. Pete, FL, which turned out to be an incredible investment opportunity. Max and Kaitlin's expertise allowed me to underwrite the deal and explore various scenarios, but that was just the beginning.
What sets Vollmer Coaching apart is their commitment to going above and beyond for their clients. Max and Kaitlin personally met with the property owner, developed a strong rapport, and devised a plan to help her avoid foreclosure. Despite having little equity and being in financial distress, we were able to offer her $30k to start anew, while taking over the mortgage payments. The low-interest rate of 3.25% made it a lucrative asset, generating cash flow that surpassed our expectations.
But our partnership with Vollmer Coaching didn't end there. Kaitlin's design expertise proved invaluable, as she helped us transform the house into a modern and aesthetically pleasing space, perfect for short-term rentals. As a result, we are now earning a monthly profit of $2k, which not only pays off the mortgage, taxes, and insurance but also secures our financial future.
Words cannot express how grateful I am for Vollmer Coaching's mentorship and support. Through their guidance, we have not only secured a renovated house but also helped someone in need. The experience has been life-changing, and I look forward to continuing to work with them in the future.

Learned amazing things about Real Estate Investing and had the opportunity to invest in a new construction project.
I enrolled in Vollmer Coaching to expand my knowledge horizon when it comes to real estate investing. Despite my busy schedule as a doctor, I am eager to understand the financial benefits and long-term legacy play of investing in real estate. Thanks to Max's exceptional one-on-one attention, he has personally taught me the most important things about real estate, devoting an hour each week to my growth. Understanding that you make the money when you buy the deal, not when you sell, has been an invaluable lesson. I now appreciate the importance of underwriting a deal correctly and factoring in the market outlook. Though my time is currently limited, I am confident that the knowledge I have gained will enable me to actively seek out new projects in the future.
Recently, I invested as a partner in one of Max's fix and flip projects, and it was an incredible experience. The project was completed within four months, and I almost received a massive return on investment. Encouraged by this success, I rolled my investment and additional funds into one of Max and Kaitlin's new construction projects in Florida. As a result, I am excited to learn more about this project and witness the impact these young entrepreneurs will have on the community.

We got our first commercial deal under contract and 3x our wholesale business.
I can't speak highly enough about Vollmer Coaching and the impact it has had on my business. Max and Kaitlin have been fantastic throughout the Masterclass, providing me with the support and guidance I needed to achieve financial freedom. Their lessons were practical, and I was able to implement them immediately, resulting in a 3x increase in monthly revenue. The level of support provided by Max and Kaitlin was exceptional, including their help in training my sales managers and teaching creative acquisition and disposition strategies. They went above and beyond to make sure my team was successful. They helped me syndicate a smaller commercial deal that came through our CRM and made financial sense. At first I had no idea on how to underwrite commercial deals, but Max has spent hours teaching me the ins and outs and has given me his underwriting sheets for future deals. We ended up buying that deal, and Max has helped us prepare the paperwork, raise the capital, hire contractors for the CapX, and create an exit plan. He also helped us find the debt through his mortgage broker connections, which as huge. It was almost all done for us, and we have learned everything. I am much more confident that I will be able to duplicate all that on my next deal. Cheers to Max and Kaitlin, thank you again!

Vollmer Coaching has been extremely helpful.
If you're looking to achieve financial freedom through real estate investing, Vollmer Coaching is the way to go. Max and Kaitlin have been instrumental in helping me scale my house wholesaling business. The support and guidance provided throughout the Masterclass were incredible. Max taught me how to build a solid acquisition team, which has resulted in a 2x increase in monthly revenue despite a challenging market. The creative financing strategies taught by Kaitlin have also been game-changing for my business. I appreciate the level of attention Max and Kaitlin gave to my business, including joint-ventures on complicated deals, which allowed me to transition into owning our first two deals, that we bought subject to the existing mortgage. Their expertise in these areas has been a great help. Overall, I recommend Vollmer Coaching to anyone looking to succeed in real estate investing.

Vollmer Coaching is great!
Vollmer Coaching has been a game-changer for me and my wholesaling business. Max and Kaitlin have been incredibly helpful throughout the Masterclass, providing me with the support and guidance needed to achieve financial freedom. The lessons taught in the Masterclass were practical, and I was able to implement them immediately, which has resulted in a 4x increase in my monthly revenue despite a recession market. I also appreciated the level of support that Max and Kaitlin provided in training my sales managers and teaching our team creative acquisition and disposition strategies. They went above and beyond to make sure we were successful. Moreover, their joint venture offer has helped with complicated deals and help us with transitioning into buy and hold as well as fix and flip strategies. That was huge for us, because it allowed us to be more difference, once a deal enters our system. Overall, I highly recommend Vollmer Coaching to anyone looking to succeed as a real estate investor and entrepreneur.

We did a JV on my first fix and flip, and I made $15k without actively helping.
As a real estate wholesaler in Nevada, I was eager to expand my expertise and venture into fix and flips, but I lacked the necessary connections and experience to succeed. Fortunately, Vollmer Coaching proved to be the perfect solution for my needs. Under the expert guidance of Max and Kaitlin, I was able to build a top-performing acquisition team and access premium leads within the Tampa market. Through their invaluable support, we identified a viable deal that made sense for both wholesaling and fixing and flipping. Max meticulously inspected the property, and his team efficiently renovated it. With their expertise, we qualified for a bridge loan, and when the project was finished, Max and Kaitlin expertly guided me through the sales process, netting me $15k in profits. Thanks to their guidance, I have successfully completed my first fix and flip, and gained priceless knowledge and skills while their team did the work, making Vollmer Coaching an incredible program run by amazing people.

Making $3,000 a month on average with our AirBnB
Kaitlin and Max are absolutely outstanding individuals who have made an incredible impact on our journey to real estate success. After selling our coffee shop in Georgia, my brother and I were eager to invest in a cash-flowing Airbnb property in Florida. Thanks to the comprehensive onboarding process and weekly coaching sessions offered by Kaitlin and Max, we gained the expertise we needed to confidently identify and underwrite properties that make financial sense. When we finally found the right property, Max provided invaluable assistance with the final underwriting and even personally inspected the property to ensure its quality. Through a joint venture, Max and his team provided funding and completed the entire renovation process, while Kaitlin designed a stunning beach-themed interior that perfectly complemented our vision. They even went above and beyond by ordering and assembling furniture and decorations for us. Thanks to their strategic design and placement, our short-term rental has generated an average of $3,000 a month, and their cleaning team continues to maintain the property and provide support whenever unexpected issues arise. Kaitlin and Max are truly wonderful people, and we feel blessed to have had their guidance and support throughout our real estate journey.
Tim Adams and Mike Nicolson, GA

We got our first rental after 4 months.
Kaitlin has been an exceptional mentor and guide for us as new investors in the real estate market, providing us with the knowledge and resources we needed to confidently dive in. With her and Max's expert education and guidance over the past few months, we have gained a comprehensive understanding of the wholesale process, deal underwriting, effective communication with agents and homeowners, and the process of closing deals through traditional or creative financing methods. Despite our initial hesitation, Kaitlin encouraged us to take action and find our first deal, which she and Max helped us underwrite and negotiate to secure the right price. But their support didn't stop there - they also assisted us in securing funding, completed the renovation process, and now we are proud owners of a cash flowing rental property in St. Petersburg, FL. My husband and I are deeply grateful for their invaluable assistance, which gave us the confidence to achieve success in real estate in the years to come. By taking action within their program, we were able to realize our dream of owning a rental property without being overwhelmed or stuck on the sidelines.

I made $40k within my second week in the Masterclass
Max has proven to be a massive help for our team. He provided us with a wealth of expertise and resources during the onboarding process. Among that, he also generously provided us with 20k free and skip-traced leads, which he helped us seamlessly integrate into our CRM and acquisition process. Furthermore, Max's training of our sales staff focused on building strong relationships with our potential clients and setting realistic expectations, rather then relying solely on distress and the offer to close quickly. This shift in our sales approach yielded positive results, as we quickly closed a great deal utilizing the leads provided by Max. Thanks to his guidance, we were able to structure the deal using creative financing and ultimately earned a $40k finders fee. We are gratefull for Max and his company's expertise, and we look forward to continued success under their mentorship.

Vollmer Coaching has proven to be an extremely valuable resource for our wholesale business. Max's wholesale blueprint, sales trainings, and creative financing trainings have enabled us to increase our lead to contract ration from 2-3 deals a month, to consistently close 5-7 deals within just 9 weeks of the mentorship. My team and I are super satisfied with the results and guidance provided.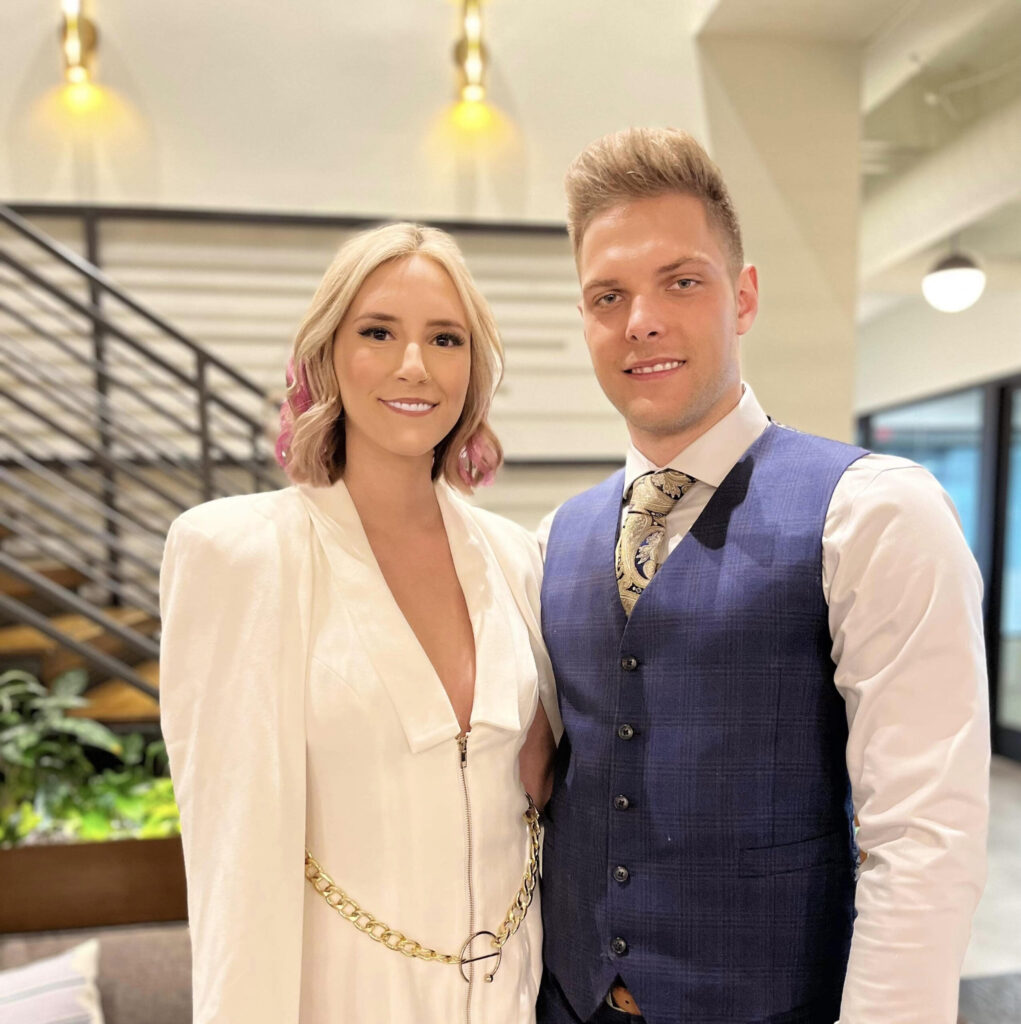 Max and Kaitlin's journey to becoming Real Estate Entrepreneurs is nothing short of inspiring. With only $76 in their bank account and no prior real estate experience, they embarked on a mission to achieve financial freedom and create a legacy of wealth, all while juggling the demands of being full-time college students.
Their hard work and dedication paid off, and today, they own and operate an impressive portfolio of 50+ rentals and Airbnbs, as well as 120+ doors in their apartment portfolio. They have also completed over 400 fix-and-flips and wholesale deals, and are currently undertaking ground-up construction of small apartment buildings and townhome complexes in the Florida Market.
But what truly sets Max and Kaitlin apart is their unwavering commitment to giving back and helping others succeed on their journey to financial independence. They are passionate about sharing their knowledge and expertise with aspiring real estate entrepreneurs, providing them with the tools and guidance needed to achieve their goals in 2023.
Max and Kaitlin are a dynamic duo who have defied the odds and achieved remarkable success in the world of real estate. Their journey is a testament to the power of hard work, determination, and unwavering commitment to success. Join them on their mission to create a legacy of wealth and financial freedom, and take your first step towards a brighter future today.